Foot Levelers – Custom Orthotics Reduce Pain
Available at Collett Family Chiropractic in Elkins, WV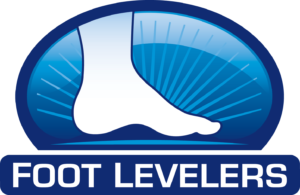 Are you experiencing daily pain in your feet, ankles, legs, or back? If you are not supporting your feet properly this is not surprising! No stock shoe can possibly fit every foot perfectly; however, custom orthotic inserts by Foot Levelers make every shoe perfectly fit the natural contours of your foot. For the ultimate in support, comfort, and functionality you owe it to yourself to ensure that your feet are properly fitted within your footwear. Your feet never have to hurt! Foot Levelers support and stabilize the entire body, providing widespread pain relief.
Lower Back Pain
Plantar Fasciitis
Hip Pain
Knee Pain
Neck Pain
Sciatica
Postural Correction
Pronation
Gait
The Foot & Back Pain Connection
As the foundation of the entire body, the health and structural stability of your feet is vital to your overall well-being. Foot Levelers custom orthotics are recommended for everyone as a preventive measure, as well as an exceptionally effective therapeutic treatment for individuals suffering from lower back pain. Consider Foot Levelers, along with professional chiropractic care, as a safe non-opioid pain relief alternative –and your best first line of defense.
How Do Foot Levelers Custom Orthotics Work?
If you must walk or stand for several hours each day, you are probably quite familiar with the pain that this can cause in your feet, as well in your back and throughout the entire body. The reason for this pain begins with imbalances throughout the body. Foot Levelers are completely customized to address and correct the specific imbalances and weaknesses that are present within your body. Unlike drugstore orthotics that just shift the pain somewhere else temporarily, Foot Levelers actually correct the imbalance by providing targeted support. Fitting of Foot levelers is completed with aid of a personalized scan and evaluation to ensure that your new advanced orthotics provide the precision relief you need. In addition, your Foot Levelers can assist with helping your chiropractic adjustments hold for longer. When your body is properly balanced and supported you are able to achieve a more pain-free life.

Real Relief for Foot & Back Pain in Elkins, WV
Whether you work in an office, in the field, are an athlete, recovering from surgery, or wear narrow dress shoes on a regular basis, Foot Levelers offer the perfect solution to relieve your pain and eliminate discomfort. Created to adjust to different terrains, provide support and stability, absorb shock and stress, and provide balance, Foot Levelers are the perfect solution for overall comfort and maximum performance in all you do.
We are proud to offer Foot Levelers custom orthotics to our patients. If you would like to learn more about how this custom orthotics can help you, contact Collett Family Chiropractic. Call: 304-636-9610.